So way back in 2010, I wrote an article about couple of headsets for FRS/GMRS radios that I used frequently. While still relevant, I felt that I needed to step up my commo game and update my rig. Well, if I'm being completely honest, I noticed that my little Motorola Talkabout radios, while great for daily family use, was simply under performing on the field. Range and clarity mostly, but those are the very foundations of a quality radio. These Talkabouts were less than a year old and they were being stepped on by Baofengs and ICOMs. We simply can't have that now, can we?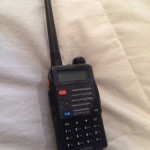 The Radio
I did my homework and found the venerable and cost effective Baofeng UV5R+ over on Amazon. Reading that this radio must be programmed (the nerd in me cheered!), I also picked up the appropriate programming USB cable. To program this radio, you need to do a little homework and learn the basic frequencies of the FRS/GMRS channels as well as the CTCSS "privacy codes" in order to set up subchannels. There are a ton of reference sites listing the frequencies needed, no need to repeat them here. While programming, I found it handy to have my Talkabout handy to test the frequencies along the way to ensure I was on the right track.  I really liked that I could add a custom start-up message (mine is "Radar KDO241") and that by pushing the "A/B" blue button, I could quickly switch between a primary/secondary channel.
The PTT
The UV5R+ utilizes the Kenwood style of plugs so my options were wide open. I decided to go with the pretty univeral (and cheap, $20 @ Evike)  Element U94 PTT Military Standard Version . Pretty straight forward only mine came with a defect. I could broadcast but couldn't hear. I opened it up and saw that one of the contacts was not making a connection to the headset pin. I simply bent it 2-3mm which immediately fixed the issue. The PTT button is crisp and easy to locate with gloves on. The cable is long enough to reach the radio no matter where you keep it and it seats firm. Outside of the initial issue, pretty good piece of cheap kit.
The Headset
I've always been a fan of the Bowman style of headsets. I use to have the Swimmer type but I found it irritated my head around the ear and muffled the ambient environment when worn. The Bowman style allows my ear to breath which I greatly appreciate. I ended up picking up the Element Military Grade Tactical Communications Headset (Type A) (OD Green) from Evike, again on the cheap. Now I have a pretty big dome, 62cm, which makes helmets and headsets bothersome in the fitting department. With the headband set to its largest setting, the headset rested perfectly. The sound was good and the mic performed as it should. No complaints whatsoever.
Testing The Rig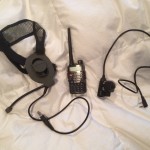 Combined all together, AKA 'The Rig', performs beautifully. I have yet to try it in an airsoft arena, but I did recently give it a trial run while plowing my driveway. The outside temperature was around 5F so I enlisted the help of the wife & daughter to test it out. They sat inside with my Talkabout while I wore the rig. They chatted with me for about 45 minutes without issue. Success! Overall I'm very impressed with this setup and look forward to rocking it this upcoming season.