Manufacturer: Black Ops Airsoft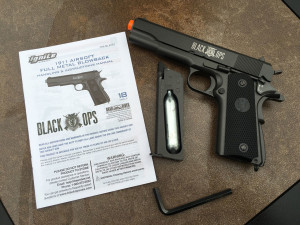 Package: 1x pistol, 1x manual, 1x 100rd bag of 6mm .20g BBs, 1x hex key.
Type: Weapon
Rating: 5/5
Cost: $59.99
Over my many years of airsofting I've owned plenty of 1911's, ranging from Western Arms to KWA but for one reason or another, I always end up selling them but this 1911 might be the exception! When I opened the package sent from the Black Ops Airsoft team and saw the 1911 staring back at me I was initially hesitant but as soon as I picked it up, it began to grow on me. Weighing in at a beefy 2.1 pounds, this monster will make sure you know it's there when running it on the field. The gun did arrive fairly dry so I do suggest a general maintenance lubing before you head out to the field.
Unlike my other 1911's, this one is CO2 powered, something we in the frozen tundra of the north need when running secondaries in the fall/winter/spring months. Utilizing the standard 12g CO2 cartridge found at most sporting good stores, finding charges for this pistol should be a breeze. If you look at the magazine with the BB channel facing you, you would load the CO2 cartridge on the right side, the only side it would fit in. Once it's in, you would then use the provided allen wrench to screw the cartridge into place. Once seated, DO NOT REMOVE THE CARTRIDGE UNTIL IT'S SPENT. Pro-tip: screw the CO2 cartridge in as quickly as possible so no gas is accidentally vented.
Shooting:
Shooting the 1911 is really where this replica shines. There are 2 safeties, the grip safety (the one that the webbing between your thumb and index finger engages) and the thumb safety (the one on the right side of the frame right below the rear of the slide) to ensure accidental discharge won't happen. As a side note, my dislike of the 1911 design is the thumb safety alone… this feature has cheated me out of a few kills and I never forgave the 1911 for it, but that's just a personal irrational gripe. Once you load the magazine with the CO2 cartridge and feed in your 16 BBs, you are ready to throw some 6mm death!
The kick from the blowback is like that of a mule. I wasn't ready for it when initially testing… I was thinking it would be like my KWA G17, but man was I wrong. A very crisp report and return to battery makes the gun feel that much more realistic. I was shooting in 59 degree weather with .20BBs and averaged about 315fps over 5 shots, the hottest being 330, lowest being 298.
Accuracy:
At 30′ I was getting 3″ groups consistently but beyond 30′ I started to notice a few abnormalities. At around 50′, the rounds were hopping up like crazy. At first I thought it was BB weight so I switched to .25's and got the same results. Ah, the hop-up must be cranked up… I broke the gun down as the manual instructed, adjusted the hop in one direction and shot again. Same results. Rinse, repeat but in the other direction… same results. I then broke the 1911 down to the outer barrel / inner barrel & hop-up assemble to take a closer look. No matter which way I turned the hop-up dial, the hop-up rubber never moved. Not even an inch. I still have more testing to do but to be perfectly honest will probably leave it as-is. I use my sidearms as a back-up to my primary and if I'm shooting a pistol at over 50′, I'm looking to scare someone into cover, not being a BB-laying support platform. I didn't knock the pistol for this oddness.
Let's break it down:
Pros:
HEAVY full-metal design
Awesome gas efficiency (3 mags per CO2 cartridge!)
Decent accuracy at 30′
Functional metal lanyard loop
Cons:
Very dry out of the box, lube it before your 1st game.
Accuracy abnormalities beyond 50′
HEAVY full-metal design
In conclusion, I'm pleasantly surprised at what this pistol offers at this price point. She's a heavy-weight straight shooter that kicks like a mule. What more could you want in an airsoft replica? Maybe an extra mag or two because I plan to field this guy in the very near future, giving my venerable KWA G17 a break.