Manufacturer: Black Ops Airsoft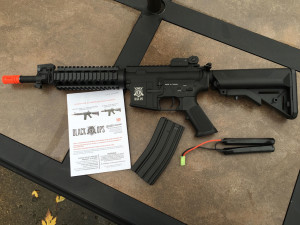 Package: 1x AEG, 1x 300rd hi-cap magazine, 1x manual, 1x 100rd bag of 6mm .20g BBs, 1x cleaning rod, 1x 9.6v Ni-MH 1500mah battery, 1x 120V A/C charger.
Type: Weapon
Rating: 5/5
Cost: $299.99
Word around the campfire is that Black Ops Airsoft is putting out a new premium line of products and it just so happens that yours truly got his hands on one of their new M4 AEGs! The M4 Diamondback Assault Rifle is not your average starter AEG but rather the next step. Out of the box this AEG will surprise you with it's weight, crane stock, FPS and internal build quality… I know it surprised me! So let's dig in, shall we?
Contents:
The contents of the box contain the usual new gun fare (cleaning/unjamming rod, hi-cap magazine, wall charger, battery, manual, warranty card) as well as the AEG itself. The Diamondback M4 weighs in at 6.1 pounds unloaded and you feel every ounce of it when shouldering it. I'm a big fan of full-metal guns and this M4 doesn't disappoint. The battery is a 9.6v Ni-MH 1500mah nun-chuck style wired to a small Tamiya connector, nice change from the usual 8.4v Ni-MH battery we're all use to, but seeing the FPS specs in the manual (340-380 w/.20g BBs), the bigger battery would be a must.
Externals:
The Diamondback M4's first impression is her metal content and flip up sights, of which none disappoint. All the appropriate parts that are metal on a real M4 are metal here. Body, buffer tube, outer barrel (12″), ris rails, sights, gas block… all metal. Only the crane stock and pistol grip are plastic (just like the real McCoy) and don't feel brittle or cheap. The crane stock is a feature that really caught my eye and allows for nun-chuck style batteries of varying size without much fuss… a welcome change from the little PEQ-box style battery housings. The flip up sights are spring loaded and give a crisp reply when opened up. The ris rails are straight as an arrow and any accessory I throw on it holds like a champ. The magazine well has the Black Ops logo on one side and "warning' paragraph on the other. The one label that really caught my eye was the "Made in Taiwan" white lettering near the fire selector. Judging purely by this label, I'm all tingly to dig into the internals. Interesting note, the motor plate is stamped "SRC". When you look into the magazine well, you can see the metal gearbox and full metal hop-up! See… tingly.
Shooting:
For all my tests, I used the included battery which I have very mixed feelings about. I used the included A/C charger to charge the battery just as the manual instructed which looked like all went well. When I hooked up the battery to the AEG, the AEG half-cycled then locked up. I plugged the battery into my peak charger and the AEG cycled afterwards but not for long. Maybe the battery I got was a lemon, but it just won't hold a charge for too long.
Onto shooting though, the Diamondback out of the box shot between 370 to 377 FPS with an average of 374 FPS using .20g BBs. When I flipped the selector to auto, I got 10.51 RPS, which maths out to be 630.6 Rounds per minute. I suspect this might be higher if I had a more reliable battery, but I wanted to use the provided items for testing. Overall a very respectable FPS and rate of fire for any outdoor game. You probably would have to downgrade the spring to use the Diamondback in a CQB environment to meet their lower FPS limits.
Accuracy:
The diameter of the inner barrel is listed as 6.06mm, a nice range between the normal inner barrels (6.08mm on average) and tight-bore inner barrels (6.03-6.01mm). I only have a 50′ range to test with, I was consistently hitting 3-4″ groups within 50 feet. The full metal one-piece hop-up contributes greatly to the accuracy as well as the wishbone hop-up nub built into the hop-up arm. That's a new one for me, but a very cool innovation.
Internals:
This is where I void the warranty so you don't have to. I didn't plan on breaking the mechbox down but I just couldn't resist. The disassembly of the Diamondback is nothing uncommon, which is appreciated. The motor is an SRC High Torque long-type motor which was an awesome surprise. Again, I'm use to the unmarked random motors in AEGs these days so this was a pleasant surprise. The mechbox is full metal and is also stamped "SRC". Opening the mechbox probably blew me away more than anything. I was expecting that weird yellow-white plastic everywhere, globbed with some unknown grease throughout the case. Yea, not so much. Everything was appropriately lubed. Let's do a quick list showing what I found inside:
8mm metal bearing bushings
Metal bearing spring guide
Polymer piston
Red metal piston head
Metal cylinder & cylinder head
Shimmed Steel gears
First… 8mm bearing bushings! Are you kidding me… that's awesome! The spring guide upgrade is one that I seldom do on my own AEGs and to see it stock here is awesome. The metal cylinder head / cylinder along with the metal piston head had a FANTASTIC air seal, I would even call it a perfect air seal. The part that threw me for a loop was the shimmed gears. Whenever I normally buy a new gun, the first thing I do is reshim the mechbox, but not this time. It was literally shimmed the exact way I would have done it on my bench. You know me… I totally would have called Black Ops out on this if it was out of spec, but seriously… it was perfect. This mechbox, in my opinion, needs no durability or performance upgrades out of the box.
Pros:
Externals are metal & plastic where the should be
Crane stock battery storage
Adjustable metal flip-up sights
Full-metal hop-up
Upgraded mechbox
Field ready FPS
1 year warranty
Cons:
Included battery was a dud (this might be isolated to just me)
Conclusion:
What Black Ops Airsoft has put out is an AEG that all range of users can appreciate and rely on. The solid externals with upgraded internals provides a reliable tacti-cool airsoft platform that performs like a champ. I have never been a die-hard M4 fanboy but the M4 Diamondback has won me over. I highly recommend this AEG for any level of player.